"Don't mistake movement for achievement. It's easy to get faked out by being busy. The question is: Busy doing what?"
-- Jim Rohn



Click Here .....To Join Jim Rohn's Weekly Enzine



---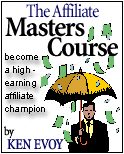 What's your passion? Your area of interest and knowledge?...
Financial matters? Automobiles? Health? Gardening? No matter what your interest, the Affiliate Masters course will show you how to convert your passion and knowledge into income.
This course shows anyone how to become a high-earning affiliate champion. Yes, a-n-y-o-n-e... it applies to any person who is interested in starting any kind of affiliate business. And not just those who want to "start."
Most affiliates start wrong and then just keep adding to that. Take this course and get your "affiliate vehicle" out of that dead end and onto a superhighway.
To take the course... Click on this link
and send a blank e-mail to
tamsdjg@sitesell.net


Join The Motivational Quotes List. Click here